The Wealth of Poverty: Capitalizing the Opportunities of Poverty for the Kingdom of God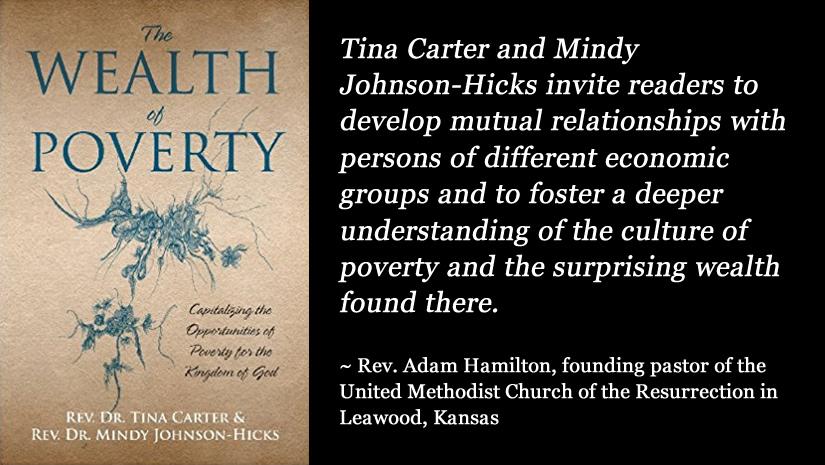 Introducing a new book by Rev. Dr. Tina Carter and Rev. Dr. Mindy Johnson-Hicks
Often the church's efforts addressing poverty involve performing acts of service for or to the poor. These acts are sometimes motivated more by one's own needs or self-interest than by a genuine concern for the poor. Tina Carter and Mindy Johnson-Hicks invite readers to take a different approach. In The Wealth of Poverty they invite readers to develop mutual relationships with persons of different economic groups and to foster a deeper understanding of the culture of poverty and the surprising wealth found there.

~ Rev. ​Adam Hamilton, founding pastor of the United Methodist Church of the Resurrection in Leawood, Kansas
Can you access the wealth of poverty? This book is our attempt to capitalize the benefits wrought within the culture of poverty and to entice others to come alongside us. Beauty and giftedness and blossom out of living without resources.
Blossoming in poverty is like a plant which grows in the crack in the sidewalk. Sometimes people call that plant "weed." The plant gets a label that makes it seem less worthy. However, the fact that weeds can grow through incredibly difficult circumstances proves there is something gifted, productive and life-affirming about weeds – even though some label them as useless and undesirable. The wealth of resources that exists in the culture of poverty often gets overlooked due to similar labeling, prejudice or cultural misunderstanding.
It is imperative to speak to the beauty in the culture without glossing over the brokenness of life without resources. The goal of this work is to illuminate strengths in the culture of poverty, describe how those strengths are forged, and to reach cross-cultural skills for capitalizing this Wealth of Poverty in the kingdom of God.
The two authors serve at Redemptive Work where Rev. Dr. Tina Carter is the community mentoring pastor and the Rev. Dr. Mindy Johnson-Hicks is executive pastor.
The Wealth of Poverty is available at Amazon.