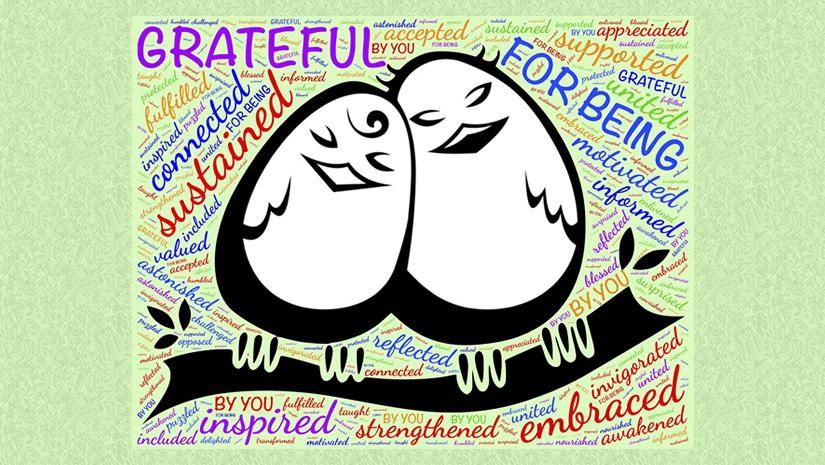 This year, I will gather with biological family members on November 23. Other years, I have gathered with friends, strangers, family, and no one at all.
As I celebrate this year, I will gather myself in a spirit of gratitude – not for white Europeans and Indigenous people picnicking together about 300 years ago – but rather for the ways in which being in communities has impacted my life. I have made it no secret that I struggle with even the concept of community.
I'm learning to embrace the struggle and to approach the inevitable suspicion I carry into communities with a lot more curiosity. What is it about communities – families, friends (many differing friend communities), work-related communities, social communities, affinity groups – that make them hard to live with, and impossible to live without?
Well, communities are made up of people – people just like me, and people nothing like me. And wherever we are as people, the push and pull and positioning for power is a constant. The variety of ways in which we interact with the multitude of varieties of people in communities challenges us daily.
For me, beyond the challenges and the energy necessary to navigate interpersonal and group dynamics, the core of community exists in our need to interact, to seek meaning, to find companionship, and to test our own ethics and beliefs as we imagine a better future for all communities.
Holding our own in Community is risky. Sharing is risky. Caring is risky. We routinely let others down, and are also let down by others. And still, we continue to try to exist alongside each other – maybe because frustration and disappointment still somehow outweigh for us the loneliness of isolation and withdrawal.
What I do know, having invested as deeply as I know how in the CWACM Community for the last 10 years and as co-convener for the past 18 months, concerns Love and Care and the entire range of being human. We agree, we disagree, we arrive, we leave, we gather. And every time we gather – physically, by phone, by Zoom or other video opportunities – the CWACM Community is brought into that space together as we name those who are not present with us at that time.
Practicing Community matters, because each time we get a bit better at being real for both ourselves and for others. And we live in the hope that someday we can engage Community more fully and deeply, that we can see and feel and know Justice and Equity. And Thanksgiving. I am in thanksgiving for CWACM and the Community we are and seek to become.