Oppression at the Intersections of Race, Gender and Economics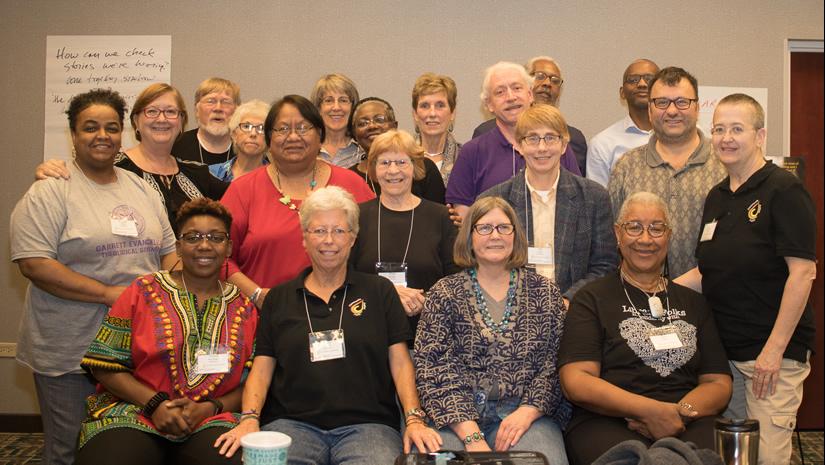 On October 12-15, 2017, from around the country, Church Within A Church community and friends gathered in Chicago to "Imagine" a more just world. Our summit included a one day retreat for CWACM clergy, sponsored by the Extraordinary Ordination Work Area. We then opened the summit on Friday the 13th with imagining a world of peace and how we might claim our role, individually and collectively in the process of "BEcoming" a more peaceful, justice oriented world.
Our conversations included: Identity Caucusing – with a prelude of why we caucus; a discussion on language – "A Tool of Racist Patriarchy." We spent time listening to a podcast titled: Miss Buchanan's Period of Adjustment by Malcolm Gladwell, followed by an amazing conversation about context, perspectives and narratives. There was a wonderful presentation about transgender women incarcerated in men's facilities. Their stories told first person were painful to hear and impactful as we learned how to be advocates for folks living in and through our broken justice system. We closed Saturday imagining how we might reconstruct unjust systems, beginning with the premise that "all oppression is connected." On Sunday, led by CWACM clergy, we wrestled with the Biblical "texts of terror."
The Chicago Planning Committee would like to thank all who attended physically and virtually. We want to thank folks who were with us for the first time, as well as the facilitators, the media team, the hospitality team and all those who helped envision and implement this summit.
We continue to build community with intentionality of inclusion and welcome. We're thankful for a community who works hard toward that goal. We've included a slideshow below of the weekend – enjoy! We invite you to be on this journey with us.
The Chicago Planning Team!
Annie Britton (FL)
Shirley Dunn (TX)
Mindy Johnson-Hicks (TX)
cathy knight (IL)
Brian Ray (IL)
Vernice Thorn (IL) Team Lead