I Have a Multicolored, Multilayered, Multifaceted Dream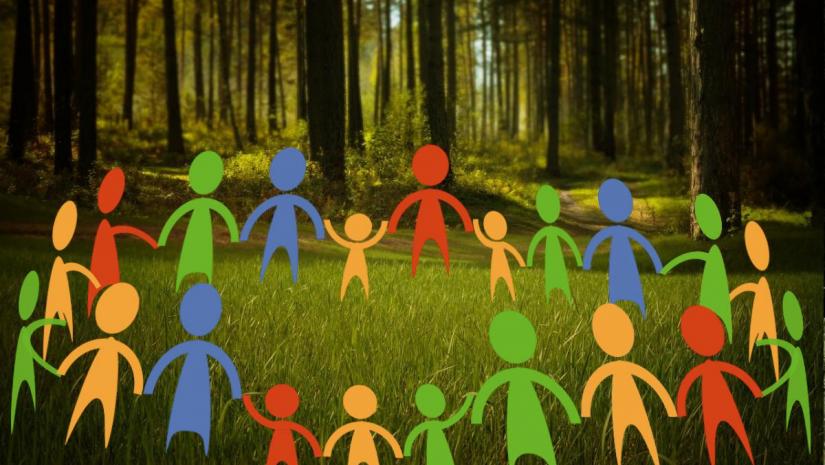 Opening reading at the JUSTice Summit DC, April 22, 2017
As we begin our time together this morning, I want to center us with a story. This story is a reality that many of us, as justice seekers, yearn for. It's a justice journey that anticipates a time when radical inclusion is the norm. A justice journey that points us toward an authentic community built on an ethic of love and acceptance and equity.
The original story was written by Yolanda Pupo-Ortiz, who is a United Methodist clergy person and at the time she wrote this, was a member of the General Commission on Religion and Race. I've adapted her story to help set the context for this day of resisting and reclaiming.
This excellent resource will help us lean into the possibility of a radically inclusive church; one that understands and celebrates the identity that each person brings, recognizing that each identity, each voice adds to the strength and significance of community. So I want you to relax, and come with me on this journey of healing and hope...
I WOKE UP and looked at the clock, surprised. I had fallen asleep on top of my desk. I had been writing a poem. It began, "I have a dream ... my dream is multicolored – multilayered – multifaceted." Suddenly, I saw a person with a lovely face. Smiling, they said, "Your dream is real. Come and see it." Taking my hand, they guided me through a thick and lushly green forest until it opened into a large and bright clearing. I stood in awe, unable to speak. What I saw was beyond anything I could have imagined. "You are right," I thought. "My dream is real." Children of all ages played in a world of enchanting color. Boys and girls held hands, danced, and sang in total happiness among butterflies, flowers, and balloons. I felt warmth in my heart, and then I saw something. "Oh no," I said. "This is beautiful, but something very important is missing. The children's faces are all in one color. My dream is multicolored!" The guide smiled and invited me to move forward.

We walked deeper into the forest. We were now in a park and there were brown, yellow, black, red, white, and olive faces. The eyes of the children were blue, deep and light brown, ebony black, green, and hazel – the eyes were different shapes, different sizes. "Yes," I thought, "this is my dream." Again I looked closely and said, "This is beautiful, but not my entire dream. In my dream there are different accents. I only hear one language spoken here." Again my guide smiled, took my hand, and invited me to walk deeper into the forest.

When we stopped I could hear the different accents. We were now in a large meeting room. At one table children played, speaking a language I did not recognize. When other children joined, they were easily welcomed at the table. They were speaking different languages. It was clear that not everyone understood each other's language, but they taught each other with patience and communicated with a love that reached beyond words. "Yes," I thought, "this is my dream. My dream is multicolored; my dream is multilingual; my dream is...." Again I stopped, realizing something very important was still missing. "In my dream there are all ages." I said. "Here I only see children." My guide smiled and nodded. Taking my hand again, they took me further and deeper, then signaled me to look.

"Oh yes," I thought. This is more what I had in mind. The big room was my church's fellowship hall and there were children, adults, seniors, teenagers, and young adults. Some played together while others worked. I saw some children around an older lady who was teaching them to play the various instruments they held in their hands. At a table I saw a teenager reading to a sight impaired person. Adults were teaching children and youth were leading adults. I stood there in joy, until I saw something else. "This is lovely but something very important is missing. Yes, my dream is multicolored and multilingual and my dream connects all ages and there is a celebration of all genders. But in my dream there are also farmers and truck drivers, doctors and teachers, laundry workers and students, factory workers and stay at home parents. There are the unemployed and underemployed and folks living homeless. All I see here are people from one class." My guide smiled and gently pushed me deeper into what seemed a timeless and endless tunnel through life.

When we stopped my eyes filled with tears. Yes, the missing component was here and made it whole. It was clear that people from all walks of life were together – the rich, the poor, and those in between. We were in a sanctuary and people sat next to each other and worshiped as one. The gathered folks clearly lived at the intersections of race, sexual orientation, gender identity, ethnicity, ability, economic status... I heard hymns from the African tradition, as well as from Latin America and the far Asian shores. The spoken word was translated into many languages and each language had its turn leading. Everyone seemed to participate. I saw them exchanging the peace as they greeted one another. But when they left, each group took a different road home. Then I said, "Yes, this is wonderful, but where is the shared pain and the shared joy? In my dream they are together in worship and in life." This time my guide looked at me with sadness. Again, we walked further and deeper.

When we stopped I looked and began to cry. We were in the sanctuary and again they were praying and singing and worshiping in different languages and styles. This time after sharing the peace, they stayed with each other throughout the daily routines and struggles of the week. Like in my dream, I saw them working, laughing and crying together. The pain and joy of one was the pain and joy of all – if one couldn't breathe, it affected them all. More marvelous, their love was not limited to themselves. It transcended the boundaries of the walls of the building and embraced everyone in the community, moving beyond traditional faith connections, beyond familial and cultural bonds – creating true community. I saw volunteers in the hospital caring for the sick. I saw others welcoming the strangers, the immigrants, the refugees. I witnessed others using their privilege to bring changes to corrupt systems so that all could have decent jobs, with fair wages, so that all would have access to clean water, a good education, and affordable healthcare. I saw justice and love overflow, confronting and transforming every unjust situation – intentionally striving to bring about reconciliation and restoration.

"This is my dream," I said. "I have found it." I was ready to stay and enjoy what I had sought when my guide said, "There is one more thing to see." In this scene, they were all seated at a big meeting table. A seasoned and wise person presided, allowing time to reflect, encouraging all to speak before any decision was made – because each voice mattered. The leader modeled for the group the importance of listening and sharing leadership. The first leader took a seat and a young, energetic person continued the conversation inspiring the group to take the next step – transforming wisdom and experience to action. The rotation and collaboration of leadership continued. All in community were encouraged to add their voices, their passion, their gifts to bring about change and build community within their walls and beyond. Under each leadership style, the group changed and grew. When there was conflict and pain they stopped work, and had conversation to help resolve the challenges. They stayed at the table, recognizing that for them to keep building and growing they must stay awake, they must take responsibility and hold each other accountable for the well being of the community.

"What are they doing?" I asked. "They are working at your dream," the guide replied. "You see, your dream never ends, because to be the radically inclusive multicolored, muti-faceted, justice seeking community – takes work and intense effort. They are learning to share leadership, to be changed, and to grow through the different identities and gifts that each person brings. They are learning that to build and sustain JUST communities, there is a need to be intentional about including everyone. They are learning to share decision-making power and resources. You see," the guide emphasized, "the process of becoming never ends."
Prayerfully, this morning, we embrace this becoming by:
Breathing in and speaking peace and understanding
Breathing in and living love and hope and healing
Breathing in and sharing justice and equity
Breathing in and being resistance and restoration
I invite us this morning to breathe in this radically inclusive dream – I invite us to the living of the same. This is our prayer. Let it be so... Amen.