Celebrating Life: Liturgy That Transforms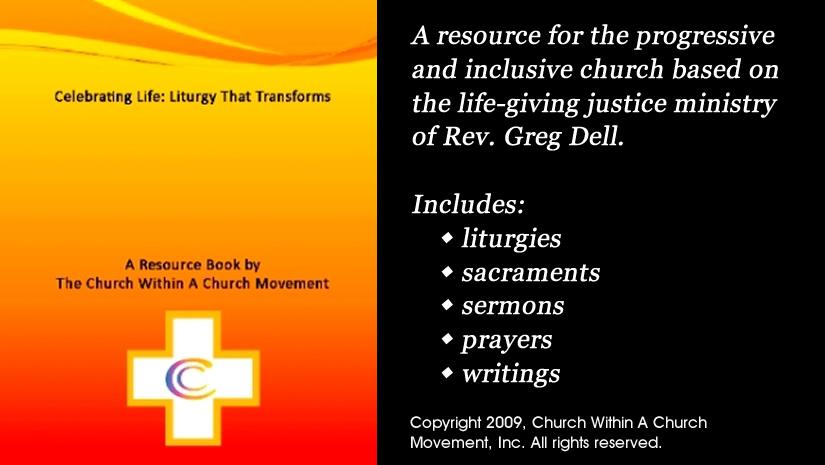 Price
Workbook on CD: $10, plus $5 S/H
This 182 page resource for the progressive church is based on the life-giving justice ministry of Rev. Greg Dell. This worship resource includes liturgies, sacraments, sermons, prayers and writings for the progressive and inclusive church.
Need a Sunday Resource? This is it. Need a new understanding of baptism or communion? This is it. Need language for a Holy Union or Same Gender Marriage? This is it.
One reader commented:
Thanks so much for Celebrating Life – it is an amazing resource – beautifully written, rich with wisdom and practicality. I am savoring it.
Contents
Forwards
cathy knight, Executive Director Church Within A Church Movement
Vernice Thorn, Co-Convener
Kevin Johnson, Co-Convener
Introduction
Thoughts on Progressive Theology
Religious Community Commitment Typology
RCCT diagram
Inclusive Language Guidelines
Community and Connection
Community and Connection Statement
Witness of the Community
Liturgy
Call to Worship
Call to Confession
Corporate Prayer of Confession
Words of Assurance
Prayer of Dedication
Benediction
Alternate Prayer of Jesus
Sacraments
Baptism
A Service of Infant Baptism
Unions and Marriages
Pastoral Thoughts on Holy Unions
Understanding Holy Union and Wedding Liturgies
Components of the Holy Union and Wedding Liturgy
Example of a Holy Union Service
Communion
Thoughts on Holy Communion Liturgy
Invitation to the Table
Communion Liturgy
Sermons, Prayers and Writings by the Rev. Greg Dell
Prayer of Invocation for the City Council of Chicago
Fear of the Joy
Go and Sin No More
Seven Last Words: "Woman Behold Your Son; Behold Your Mother"
Seven Last Words: "I Thirst"
Credits